Remember: These Skills Are Not Difficult To Master
Do you know who is most likely to die when the shit hits the fan?…
It's all those folks who trust that in the event of a major disaster the government, the police, the military or some other organization where they live will have a plan to make sure everything gets back up and running quickly.
Well, someone probably does have a plan. And they'll do their best. But as you probably know, best laid plans go to shit pretty quickly when things start falling apart.
Which means that in the meantime the survival and wellbeing of your family is up to you. No one is going to save you but yourself.
The good news is, you don't need to become Bear Grylls from Man Vs Wild to ensure that you and your family stay safe.
You just need some basic skills and supplies that, frankly… your grandfather would be shocked to find out you don't already possess…
Once I spell out the simple plan for you, it'll take you no time at all to start feeling confident that you're fully equipped to protect your loved ones in these trying times.
Now, I feel I should warn you there are tons of "survivalist" and "prepper" guides out there. But nothing with down-to-earth skills for regular men and women who just want to be ready to weather the storm, no matter what form it takes.
Which is why I originally created the Emergency Plan Alpha system… So that my peace of mind could be your peace of mind…
---
Introducing:
the Emergency Plan Alpha system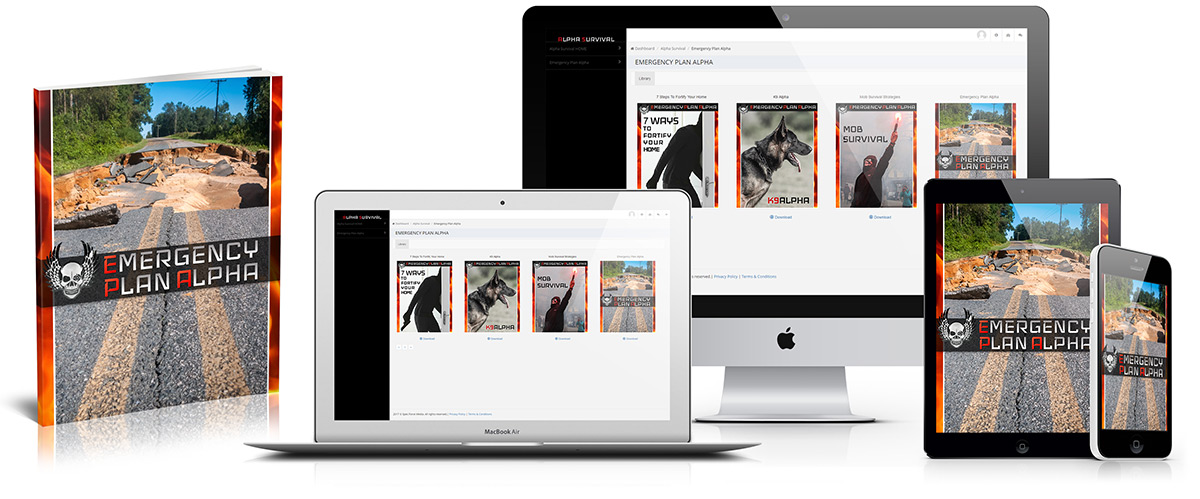 In this super-simple system you'll master things like…
An in-depth guide to first aid when hospitals and medical clinics are full (from bug bite allergies to gunshot wounds you'll be covered.
The best products and DIY solutions to kill coronavirus on surfaces…
How to protect your finances from inflation and other financial dangers…
The most potent immune boosters to help you fight off incidental exposure…
The only COVID 19 treatment showing clinical promise (tell your doctor about it if you become infected)
Exactly what your Bug Out Bag should contain in case of a worst case scenario…
The one backup plan to stay informed if internet and phone networks are interrupted…
What to do in case power goes out along with heat, air conditioning and refrigerators!…
How to make sure your family stays well fed and comfortable in a prolonged quarantine…
Learn to keep your family and community safe from predators that try to profit from the chaos…
Plus you'll learn little known emergency strategies like…
The BOB And Weave principle that will be your family's first priority when things go south. This one simple strategy will mean your family is comfortable, well-fed and safe no matter what.
The GoldenEye Strategy is the backup plan that makes you the wealthiest man on the block when disaster-driven inflation makes your paper currency almost worthless.
The Comms Control Method will keep you in control and in the know even when internet and phone networks break down completely.
How to be the Heat Wave Hero when it's so hot you could cook an egg on the sidewalk — and the power goes out along with air conditioning and refrigerators!
The Subzero Survival Strategy that keeps you and your family cozy and safe in even the most brutal cold, even if the electricity fails.
And that's not even HALF of what I share in this incredibly powerful done-for-you system…
I don't even have time to tell you about…
How to become a Primal Chef and keep everyone fed while store shelves become bare…
How to set up the Anonymous Arsenal that will keep predators at bay when shit hits the fan — both human and animal…
The Blackout Boss strategy… why the American power grid is more fragile and at-risk than you think… And how you are going to thrive when power is cut for days or weeks at a time…
And so much more…