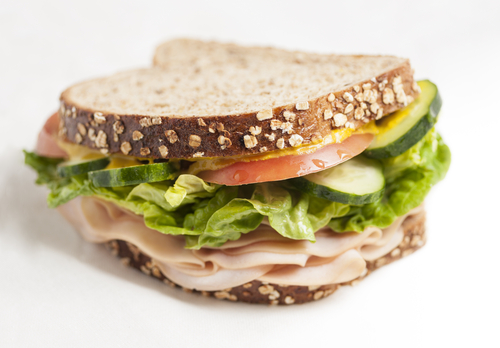 Nitric oxide plays an important role in many important bodily functions.
If you want to improve your health, it's time to get more nitric oxide in your diet!
It causes your blood vessels to dilate. This allows for an increase in blood flow, sending nutrients and oxygen around your body. Proper dilation of your blood vessels will decrease the risk of cardiovascular health problems and improve the function of your muscles, organs, and tissues.
It speeds up post-workout recovery. By increasing the amount of oxygen and nutrients (glucose and amino acids) delivered to your muscles, you can decrease post-workout muscle soreness and speed up recovery time.
It's vital for sexual function. Some of the most important blood vessels dilated by nitric oxide are the ones that deliver blood to your reproductive organs. Not just your penis (which requires a lot of blood in order to be filled and achieve erections), but the testes, prostate, and other important hormone-producing parts of your reproductive system.
It provides greater energy. Nitric oxide helps to increase endurance and boost energy production. After all, with more glucose available via the increased flow of blood, the energy you need will get to where you need it faster. Nitric oxide will also speed up the removal of lactic acid, delaying muscle fatigue during your workout.
It improves glucose use. Not only will nitric oxide help to deliver more energy (glucose) around your body, but will actually help your body be more efficient at using the glucose you absorb from the food you eat. The result: less risk of high blood sugar levels, meaning a lower chance of developing insulin resistance and diabetes.
These are the most important uses of nitric oxide, but remember that your blood is what delivers oxygen and nutrients to your brain, your muscles, your heart, and every other organ, tissue, and muscle in your body. By dilating the blood vessels, nitric oxide ensures proper circulation and improves your health in literally EVERY way.
The problem is that nitric oxide isn't the easiest nutrient to get in your diet. You can't actually eat nitric oxide, but you have to consume nitrites, nitrates, and other nutrients that your body will use to produce nitric oxide. Thankfully, there are a few foods rich in those nutrients. Adding more of them to your diet is the best way to increase nitric oxide production.
Below, we've found a few recipes we think you'll love. They all use foods that are incredibly rich in the nutrients required for nitric oxide production. Add them to your day/week, and you'll increase your body's ability to produce nitric oxide drastically!
Beet and Goat Cheese Salad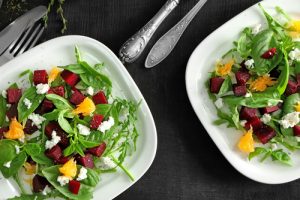 If you're looking for an amazing source of the nitrites and nitrates needed to produce nitric oxide, beets are probably the single best food to add to your diet. The inorganic nitrates in beet juice are the precursor your body needs to produce nitric oxide. Studies have shown that dietary nitrates (such as those found in beets) are vital for vascular dilation, as they enable your blood vessels to produce more nitric oxide.
This recipe is one of my personal favorite salads. It's loaded with healthy fats and proteins (courtesy of the nuts and goat cheese), but it's also a fiber-rich meal. Have a heaping plate of this salad once or twice a week, and you'll seriously boost nitric oxide production.
The Ingredients:
For this recipe, you will need:
4 medium beets
 1/3 cup of chopped walnuts
 3 tablespoons of maple syrup
 1 (10 ounce) package of mixed salad greens
2 ounces of goat cheese
Preparation:
To begin, wash the beets and cut away the greens. Trim the stalks as close to the root as possible. Place the beets in a pot of water, and set them on the stove to boil. Once the water is boiling, cover the pot with a lid and let the beets cook for another 30 minutes. To test, stick a fork into the beets. The fork should slide in and out easily.
Take the beets off the stove, drain the water, and set the beets aside to cool. As you are waiting for the beets, place the walnuts in a skillet on the stove. Toast the walnuts for 3-5 minutes, then add in the maple syrup and turn off the heat. Stir the walnuts to ensure they are thoroughly coated. Set aside.
Peel and cut the beets into cubes (or slices, whatever you prefer). Set the mixed greens on a large dinner plate, and add atop it the beets, goat cheese, and candied walnuts. Toss the salad lightly. Dress with a mild vinaigrette, something with a bit of sweetness to it.
Definitely a salad you can eat every day!
Triple Turkey Sandwich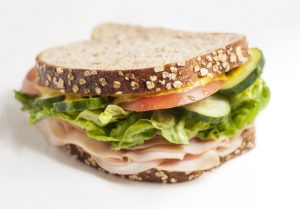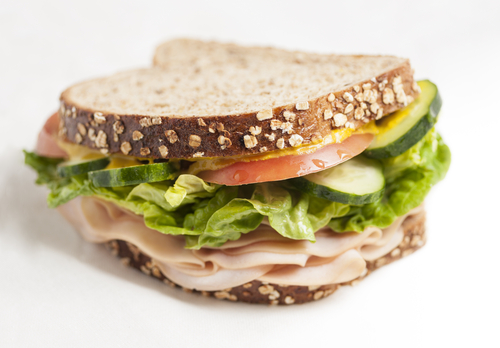 For those who want to increase their nitric oxide production, there's nothing quite like a good ol' fashioned turkey sandwich. Turkey breast is one of the best sources of arginine, an amino acid that is the precursor to nitric oxide. Arginine isn't one of the "essential" amino acids needed for building muscle, but it does play a role in vasodilation. By eating more turkey breast, you can give your body what it needs to produce more nitric oxide.
The recipe below is one I'll use when I want something meaty to fill me up after a heavy workout. With three types of turkey, it's a meal guaranteed to add more nitric oxide to your diet!
The Ingredients:
For this recipe, you will need:
1 ounce of turkey bacon
1 ounce of sliced turkey breast
1 ounce of shredded turkey breast
Tomatoes
Pickles
¼ of a white onion
Lettuce
Condiments of your choice (I'm a die-hard BBQ sauce man—I make my own at home—but you can always stick with the trusty staples like mayo, mustard, and ketchup)
Preparation:
To begin, slice the onion into strips. Place a skillet on the stove to heat, with a bit of oil in the bottom. Once the oil is hot, add in the onions. Fry the onions until translucent, then add in a pinch of sugar and a dash of soy sauce. The mixture will caramelize the onions nicely. When the onions show the first signs of blackening, remove them from the stove and set aside.
Get two pieces of your favorite whole wheat toast. (Bonus points if the toast has pumpkin seeds, another great source of arginine.) Spread mayo on the bottom slice, and pile on the cooked turkey bacon, sliced turkey breast, and the shredded breast. Next comes the lettuce, followed by tomatoes, a few pickles, and the grilled onions on top. Spread mustard, ketchup, or a spicy condiment (Tabasco, Louisiana sauce, etc.) on the top slice of bread and enjoy!
Chicken Milano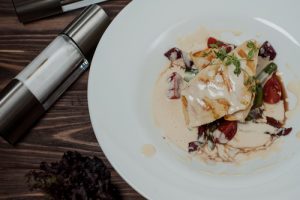 Chicken is another amazing source of arginine, the amino acid your body turns into nitric oxide. A single chicken breast contains 70% of your daily recommended dose of protein, along with a whopping 9 grams of L-arginine. Plus, chicken is one of the most delicious and most versatile of the proteins you can use.
Below is a recipe I love to make for romantic occasions. It's rich, tangy, hearty, and just what the doctor ordered when I need some Italian comfort food!
The Ingredients:
For this recipe, you will need:
1 tablespoon of butter
2 cloves of garlic, minced
 1/2 cup of sun-dried tomatoes, chopped
 1 cup of chicken broth, divided
 1 cup of heavy cream
1 pound of skinless, boneless chicken breast halves
salt and pepper to taste
 2 tablespoons of vegetable oil
 2 tablespoons of chopped fresh basil
Preparation:
To begin, place a saucepan on the fire and melt the butter. Add in the garlic and cook until aromatic. Add in the tomatoes and ¾ of the chicken broth. Turn up the heat to medium and bring the mixture to a boil. Once boiling, reduce to a simmer and let it continue cooking until the tomatoes are tender—usually about 5-10 minutes. Mix in the cream and bring it to a boil once more, stirring well. Simmer the sauce over medium heat until it's thick and creamy.
Prepare the chicken breasts by sprinkling salt and pepper. Cook in a skillet with oil, letting it cook for roughly 4 minutes per side. The meat should feel springy. When it's ready, transfer it to a cutting board, cover, and keep it warm.
Add the chicken broth into the same skillet and bring to a boil, stirring to absorb the chicken juices. Add the mixture into the cream sauce, stir in the basil, and add salt and pepper as desired.
To serve, place the chicken breast on a plate, and spoon the Milano sauce over the delicious breast. Magnifico!
Herby Pomegranate Salsa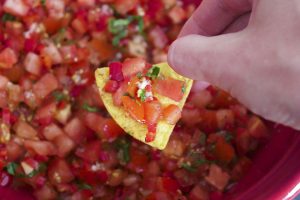 Pomegranates are another amazing nitric oxide-boosting food, thanks to the fact that they help the body to convert nitrates into nitric oxide. They also contain antioxidants that protect nitric oxide, reducing oxidative destruction and enhancing the biological actions of the nitric oxide.
The best nitric oxide-boosting form of pomegranate is pomegranate fruit extract, but pomegranate juice and pomegranate seeds will also do the trick. The recipe below is a delicious one that combines pomegranate seeds with herbs to make a delicious salsa!
The Ingredients:
For this recipe, you will need:
1 1/2 sprigs of fresh mint, chopped
 1 1/2 bunches of fresh cilantro, chopped
 1 1/2 bunches of Italian flat leaf parsley, chopped
 1 small red onion, chopped
 1 pomegranate
 6 tablespoons of fresh lime juice
 2 teaspoons of grated lime zest
1 jalapeno pepper, chopped
 1 serrano pepper, chopped
 1 small tomato, diced
2 tablespoons of olive oil
 salt and pepper, to taste
Preparation:
To begin, peel the pomegranate and remove both the skin and the white membrane. This is the most time-consuming part of the recipe.
Once the pomegranate seeds have been removed, add them in a bowl with the mint, cilantro, parsley, onion, lime zest, lime juicer, peppers, and tomato. Drizzle the olive oil over the top, and sprinkle in salt and pepper as desired. Chill in the fridge for a minimum of 2 hours before you serve.
Watermelon Pickles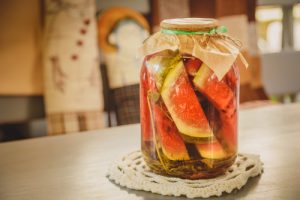 Watermelon is a source of another amino acid called citrulline, a precursor to the arginine your body needs to produce nitric acid. Studies have shown that eating watermelon can reduce blood pressure, decrease oxidative stress on the heart, and even offer cardioprotective benefits. All in all, watermelon is a food you MUST add to your diet!
Fun fact: the majority of the citrulline is in the watermelon rind. Using the watermelon rind to make the delicious pickles below is a great way to add more citrulline to your diet!
The Ingredients:
For this recipe, you will need:
4 pounds of watermelon rind
2 cups of white vinegar
2 cups of water
4 cups of sugar
3 cinnamon sticks
1 teaspoon of whole cloves
1 teaspoon of whole allspice
1 lemon, sliced thin
1⁄4 cup of salt
1 quart of water
Preparation:
Trim away any pink portions of the watermelon rind until only white and green remains. Cut the rind into cubes/pieces. Set the rind in 1 quart of water with the ¼ cup of salt. Let soak overnight.
Drain the brined watermelon, rinse with fresh water, and drain. Mix the remaining ingredients together and place in a pot on the stove. Bring to a boil, and let it keep boiling for 5 minutes. Add in the watermelon rind a few pieces at a time and cook until the rind is translucent—about 30 minutes at a simmer.
Pack the rind in sterilized jars along with the spices, cover with boiling syrup, and tightly seal the jars.
These five recipes are amazing sources of the nitrates, arginine, and citrulline your body needs to produce nitric oxide. They'll help to increase vasodilation and boost your health. Plus, they're pretty darned delicious!