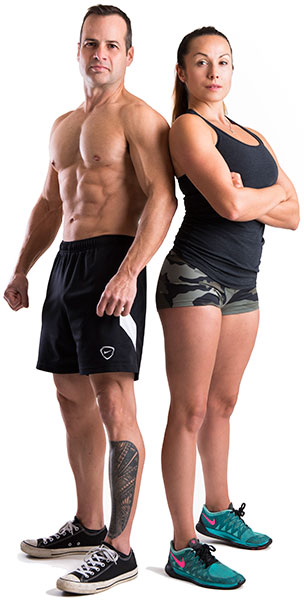 By Todd Lamb
Tactical Fitness Expert
Author of Specforce Abs
If you're a man over 35 years old you may recognize these common symptoms…
No matter how hard you try you just can't fit back into the waist size you wore for most of your adult life!…
Despite eating what you consider a healthy diet you notice the jiggly fat around your chest continues to accumulate. (…maybe you even fear developing "man boobs"…)
You just don't have the energy you used to. And your sex life seems to have gone into hibernation.
Look: Almost all guys our age are going through this. And it's caused by damaging shifts in your male hormone levels1.
The sad part is this… Most folks write this off as normal because it's happening to so many guys nowadays. However…
It is NOT normal. In fact it's a direct result of a number of lifestyle, exercise and diet factors that are 100% reversible2.
So although your quest for a flat belly and a set of six pack abs has been doomed until now — through no fault of your own — the good news is that a few subtle shifts to what you're already doing right now will quickly put you on the road to reclaiming your manliness, your energy and your trim, lean and strong body3…
Yes! That's right. I'm here to tell you that you do NOT need to workout more or diet harder. In fact both those things might actually make matters WORSE by driving down your body's natural levels of testosterone even more4.
Truth is: as a Tactical Fitness Expert who has coached dozens of Special Operators and helped over 15,000 guys via online coaching, I've discovered 3 simple mistakes that almost every guy makes that can be fixed quickly and easily so you see visible changes in your body in as little as one week…
Fix These Three Big Mistakes Today To Quickly Reverse The Deterioration of Your Male Hormones And Experience a Visibly Flatter Belly, Harder Chest Muscles, Wider Shoulders, More Energy and Even a More Virile Sex Life Fast
Male Hormone Booster

#1

AVOID "Cardio"

Listen: Long and slow cardio like jogging or biking will burn calories. And technically that means it will burn some fat. However…

It has also been shown to reduce your Testosterone4. And as we've already seen, this is one of the reasons you're now having trouble maintaining the lean, masculine body you desire…

However a different type of "cardio" — often called Interval Training — is actually even BETTER at burning fat AND it has been shown to promote increased levels of both testosterone and growth hormone5…

Which means you'll be able to burn fat faster WHILE you build lean muscle mass. So you finally uncover your six pack abs and get rid of embarrassing chest fat quickly…

Now there are a lot of ways to do Interval Training. Here's a simple one that works wonders…

Pick any exercise that allows you to go hard enough to reach what you feel is 90% of your Rate of Perceived Exertion (RPE). In other words if you went 10% more you'd be at your absolute limit…

Set yourself a timer and do that for 30 seconds. Then perform a very mild activity like walking for 90 seconds. Repeat that cycle 3-4 times if you're just starting out or up to 8 times if you're already in good shape.

Male Hormone Booster

#2

STOP Dieting

Look: I'm not saying you can eat whatever you want and still have a six pack. However…

Strict dieting is going to do you more harm than good.

Drastic calorie cutting and severely limiting your carbs or your dietary fats will immediately have a negative impact on your male hormones6.

Instead you need to eat enough to fuel the production of the key hormones that are going to drive your fat loss and your muscle gain…

And you ESPECIALLY need to make sure you're getting enough dietary FAT7…

Yes! I'm telling you to eat things like bacon if you want ripped six pack abs…

You see your sex hormones are actually derived from cholesterol8. So if your diet is deficient in fat you'll never be able to maintain the testosterone levels you need for a manly physique…

Just make sure you avoid dangerous fats like trans fat and hydrolyzed oils…

Male Hormone Booster

#3

NEVER Do Crunches

What?!?!?! If you want abs you have to train them, right? Yes, just not the way you think…

We now know that most conventional abs exercises are not only useless… but dangerous too…

And crunches are one of the worst. Not only is it boring to do the hundreds of crunches you need to perform to even make a difference in your abs development. All those crunches have been proven to mess up your back and cause injuries9…

Which is why I now recommend something called Fixed Angle Contraction™ to quickly create a strong core and ripped six pack abs…

EMG studies prove this method of abs training far outperforms traditional crunches while practically bulletproofing your core10…

I cover Fixed Angle Contractions in detail on the next page of this series so keep reading. However…

Before you go any further please let me

CAUTION

you…

The system revealed on the next page is being used by over 13 thousand men to quickly build a strong, lean and muscular core. I have to be honest though…

It's not a walk in the park. Nothing worthwhile ever is.

So if you're looking for another "abs in a bottle" scheme… or some other "miracle" cure for your middle age spread then you don't need to check out the next page.

However if you're interested in the most cutting edge, quickest, simplest and safest way to quickly lose abdominal fat and build a ripped six pack then simply click on the link below.

You'll discover the exact Specforce Abs system designed to boost your male sex hormones so you can quickly shed middle age fat from your belly and chest while you reverse muscle loss and pack on pounds of lean, hard muscle…

1 ncbi.nlm.nih.gov/pmc/articles/PMC2544367/
2 ncbi.nlm.nih.gov/pubmed/12074505
3 ncbi.nlm.nih.gov/pubmed/21058750
4 ncbi.nlm.nih.gov/pubmed/16268050
5 ncbi.nlm.nih.gov/pubmed/23310924
6 ncbi.nlm.nih.gov/pubmed/20096034
7 ncbi.nlm.nih.gov/pubmed/8942407
8 ncbi.nlm.nih.gov/pubmed/6271543
9 ncbi.nlm.nih.gov/pubmed/23025339
10 jssm.org/volume12/iss3/cap/jssm-12-467.pdf